IMAGINE Your Can Enjoy Succulent Grilled Meats At The Convenient Of Your Home Plus, Stay Neat Without Being Stained With Dirt .
JUST LANDED IN:

Smokeless Automatic Electric Rotary Barbecue Oven
The Quest Rotisserie Grill is perfect for cooking kebabs, Chicken, Vegetables, Fish and much more. It includes 7 individual skewers plus a central main skewer for larger items such as chickens. The Rotisserie Grill is compact and powerful, and ideal for use at home or in a caravan.
The removable drip tray collects all fat and grease, meaning that it is
Easy to prepare healthy meals and is also very easy to clean.
HEALTHIER VERSATILE COOKING
This vertical rotisserie grill is perfect for cooking a large chicken (& other meats) or up to 7 kebabs at once.
The 360°C rotation features helps cook your food quicker and more evenly than in a conventional oven & fat drains away into the drip tray.
SLEEK & CONTEMPORARY STYLISH ROTISSERIE GRILL
60 MINUTE TIMER FUNCTION
The rotisserie is also fitted with an adjustable 60 minute timer, so you can set it running and not worry about it keeping going if you forget its running.
Compact, ideal for home or a caravan. Quick, slow roasted flavour. Clean Cooking, removable drip tray.
This Powerful 1500W Rotisserie grill is for versatile healthier cooking.

Clear viewing panel.
Accessories included:

7 x Individual Kebab Skewers

1 x Central Rotating Spit

Clips to hold food place

1 x Drip Tray
SPECIFICATION:
Voltage: AC 220-240V/50Hz
Rated Power: 1500W
Cord Length: 1m approx
Dimensions: 45x27x33cm approx
FEATURES:
21L Capacity
Sliding glass door with auto shut-off
Stainless steel heating elements
60 minute timer
Accessories included
Anti-slip feet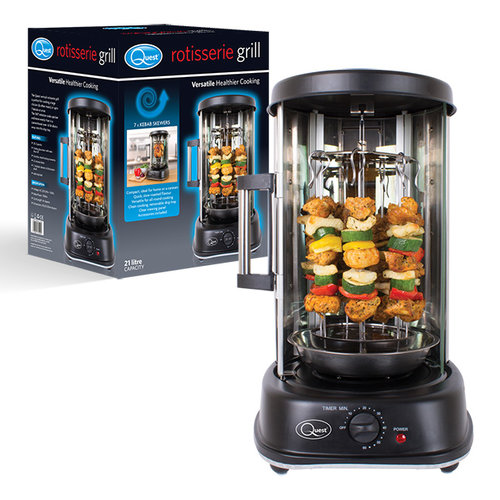 WORTH = N190,000
NORMAL = N150,000
PROMO = N80,500
NOTE: Our Delivery Takes 3 Working Days To Get To You, Abuja- Lagos Within 48Hours

WARNING !
WARNING !
WARNING !
Don't Place Order If The Cash Is Not Readily Available Or If You Will Travel Within The Period
You can send Us a TEXT MESSAGE By Texting 1. YOUR NAME 2. DELIVERY ADRESS 4. PHONE NUMBER 5. YOUR SIZE TO 08148662960 OR WHATSAPP +234~9136225994 OR FILL THE FORM BELLOW AND SUBMITE.This is your new text content. You can modify this text, add more paragraph, change font style or add images by clicking the edit button.